Start the weekend right with great music in a relaxed setting
Welcome!
We present short programs of really good chamber music in an informal setting. All programs (60-75 minutes with no intermission) are in the intimate and very pleasant sanctuary of Epiphany Lutheran Church, 790 South Corona Street, Denver, on Fridays at 6 p.m. Light refreshments are available. It's a fabulous way to start your weekend – whether you simply like great music, want to avoid rush hour, or add something to your Friday social schedule. Please join us for a wonderful evening!
Our next concert
FRIDAY, OCTOBER 11, 6 PM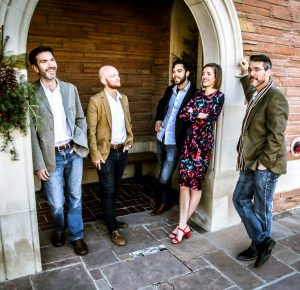 SOLIS
We welcome Solis back to Happy Hour after their very successful debut with us as season opener last year. These five voices blend with exquisite a capella artistry. Their program is still under development, but it is sure to get our new season off to a glorious start. To learn more about Solis, click here. And check back with us to see what treats they are planning for this season! Tickets will go on sale August 15.
Solis
Mo Bailey, soprano
John Boggs, alto
Jim Gatch, tenor
Brian du Fresne, baritone
Maxwell J McKee, bass
FRIDAY, NOVEMBER 1, 6 PM
Morgan/Simms Duo
Ann Marie Morgan and Billy Simms

FRIDAY, NOVEMBER 15, 6 PM
Flaming Swords – Colorado Chamber Players
Daniel Urbanowicz, Viola D'amore
Barbara Hamilton, Viola D'amore
Ann Marie Morgan, Viola da gamba
Scott Saari, Viola da gamba and Lute

FRIDAY, JANUARY 17, 2020, 6 PM
Viol Extravaganza
Sarah Biber and friends
FRIDAY, APRIL 3, 6 PM
Baroque Exotique
Compass Resonance Ensemble, Boulder Bach Festival
FRIDAY, APRIL 24, 6 PM
Harpsichord for Strings
Carla Sciaky, Sandra Miller, and Sarah Biber
What people are saying
"That was a wonderful concert – it seems the perfect format too. The timing was great too – we were able to go out after the concert, instead of having to rush through a dinner to make it in time"
"The setting is perfect! Comfortable and acoustically just right!"
"We find these concerts to be such a treat. They seem to help launch a few days of ease. The music is always first class and very engaging."