October 9, 2015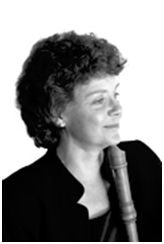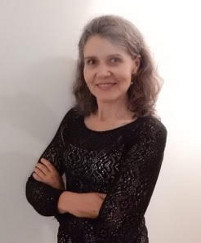 LINDA LUNBECK, RECORDERIST,
AND ELENA MATHYS, KEYBOARDIST
Happy Hour Chamber Concerts presents the dazzling duo of LINDA LUNBECK (recorders) and ELENA MATHYS (harpsichord) in an unforgettable evening of Baroque masterpieces. The intimacy of recorder and harpsichord transports you with sonatas and fantasias of the three pillars of the high Baroque. Pairs well with reds or whites.
Program
Sonata in B flat major, for recorder and basso continuo, HWV 377 (c. 1724-25, published 1730-32) – George Frideric Handel (1685-1759)
[Allegro]
Adagio
Allegro
Sonata in B minor, for recorder (originally for transverse flute) and obbligato harpsichord, BWV 1030 (1736-37) – Johann Sebastian Bach (1685-1750)
Andante
Largo e dolce
Presto – [Allegro]
Fantasia No. 8 in G Minor for harpsichord, TWV 33:8 (1732-33) from Fantaisies pour le clavessin; 3 Douzaines [36] – G.P. Telemann (1681-1767)
Vivace
Cantabile
Vivace [da capo]
Sonata IV in A minor, for recorder and basso continuo, HWV 362 (c. 1725-26, pub. 1730-32) – Handel
Larghetto
Allegro
Adagio
Allegro
Fantasia No. 1 in C Major (original flute key A major). TWV 40:1 (c. 1727), from 12 Fantasie per il [Flauto] senza Basso – Telemann
Vivace
[Adagio allegro]
Allegro
Sonata II in G Minor, for recorder and basso continuo, HWV 360 (c. 1725-26, pub 1730-32), Handel
Larghetto
Andante
Adagio
Presto
November 20, 2015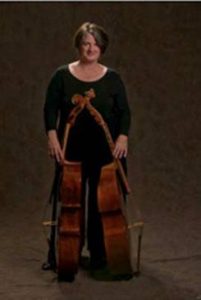 ANN MARIE MORGAN,
BAROQUE CELLIST AND VIOLAS DA GAMBIST
Happy Hour Chamber Concerts is happy to present the string artistry of internationally acclaimed ANN MARIE MORGAN. There is nothing quite like the warmth of Ann Marie's playing. When you pair with friends, nibbles, and a glass of wine—a perfect prelude to the evening.
Program
"Ciaccona" from Sei Solo a Violino senza Basso accompagnato (Partita No. 2 in D Minor) – Johann Sebastian Bach (1685-1750) – (Transcribed for Viola da Gamba by Ann Marie Morgan)
Rosebuds Dancing for Viola da Gamba and electronics – John Drumheller, John Dowland, Ann Marie Morgan
Suite IV in E-flat for Unaccompanied Violoncello – J.S. Bach
Prelude
Allemande
Courante
Sarabande
Bourrées I &II
Gigue
Program notes
When I was a young girl growing up in a Chicago suburb my older sister began to study classical guitar. One of my favorite pieces to listen to from her LP entitled Julian Bream Plays Bach was the "Chaconne" (ciaconna). I had no idea at the time that it has been written for violin originally and, by the first time I heard it performed on violin, the recorded performance of Mr. Bream was indelibly imprinted in my aural memory. The potential of the best of both worlds (the bowed and the plucked) became apparent several decades later – why not make a transcription for solo bass viola da gamba? The viol evolves out of the Spanish guitar (vihuela), is fretted and is most often bowed. After each of my several performances of this piece in recent years I have reworked sections in attempt to come up with the most violistically idiomatic settings possible. I would like to thank my instrument, Zoe, for being most instructive in this process!
The second piece on the program had its debut last May in Denver. The work, entitled "Rosebuds Dancing", is a piece written for and dedicated to me by Colorado composer John Drumheller. A collaboration of both the composer and performer, Drumheller's contribution is a fixed media electronic backdrop with materials taken exclusively from my recording of the song "Among Rosebuds" by Nicholas Lanier (from the album by that same title on Centaur Records). The dance flanks and is interwoven into a lengthy lament over which I interject phrases from John Downland's "Lachrimae" in live performance on the viol. I find it fascinating that the historical practice of taking a familiar tune and composing or improvising around it is approached differently here – and, in fact, that the "reworking" precedes the interjection of the famous tune!
How can one resist programming a Bach unaccompanied suite for cello? Bach's key choice of E-flat for the fourth suite is the least "cello friendly" of the six suites. Nevertheless, it is well worth the added struggle to bring forth its glory. For me as a performer what often occurs as I work towards presenting such a multiple-movement piece is that a programmatic element reveals itself to me. Usually I keep this story line to myself, letting it assist me in the delivery of the piece to an audience. Because of the unique opportunity that the Happy Hour Concerts provides for us to share with you, the audience, in writing, I am going to break with tradition and reveal my "inner story" for the suite:
Prelude – Mindfulness, conscious breathing, being in the moment. Intermittent worry.
Allemande – Walking meditation
Courante – Animals frolic
Sarabande – Old age
Bourrées I & II – Children play/battle
Gigue – Celebration of LIFE dance – return to self.
Ann Marie Morgan 10/19/15
February 12, 2016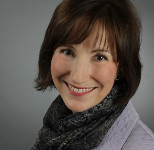 THE FLOWERING AND FADING OF LOVE
One amazing soprano, one two-manual harpsichord, four ingenious instrumentalists on period instruments, and a flurry of fabulous Italian baroque composers (one a woman!)
Amanda Balestrieri, soprano, with Parish House Baroque
Elisa Wicks and Terri Moon, baroque violins
Pamela Chaddon, baroque 'cello
Eric Wicks, harpsichord
Program
La Rosa – Attilio Ariosti (1666-1729)
Annunciation Sonata (from the Rosary Sonatas) – Heinrich Ignaz Franz von Biber (1644-1704)
Hor che Apollo / Che si può fare (passacaglia) – Barbara Strozzi (1619-1677)
La Folia – Antonio Lucio Vivaldi (1678-1741)
Wednesday, March 23, 2016
(cancelled – snow)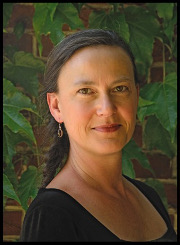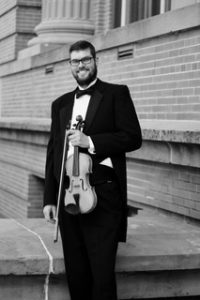 CORDE À VIDE
Lorna Peters, harpsichord
Jubal Fulks, violin
Happy Hour Chamber Concerts is fortunate to present the Baroque duo sensation Corde à vide, an early music ensemble described widely as "fiery". You will be introduced to some wonderful composers you don't hear every day. It promises to be a gem.
Program
Sonata in G Minor for violin and continuo, HWV 364 – George Frideric Handel (1685-1759)
Larghetto
Allegro
Adagio
Allegro
Sonata quarta "per sonar con due corde" – Biagio Marini (1594-1663)
Passacaglia für Violine allein – Heinrich Ignaz Franz von Biber (1644-1704)
Sonata in D Major for violin and continuo – Georg Muffat (1653-1704)
Adagio
Allegro
Adagio
Allegro
Adagio
Sonata Op. 3, No. 3, "La Melana" for violin and continuo – Giovanni Pandolfi Mealli (1630-1669)
Program notes
Though born in Germany, George Frideric Handel (1685-1759) spent most of his adult life in London, moving there in 1712 and becoming a naturalized British subject in 1727. Handel was born into a non-musical family, and his father was interested in having him study law. In 1702, he enrolled in law studies at the University of Halle, but the pull of music proved too strong, and after only one year at law school withdrew and accepted a position as violinist and harpsichordist with an orchestra in Hamburg. At the invitation of Ferdinando de Medici in 1706, Handel travelled to Florence, Italy. This would be an important time in his life, as the Italian style remained an influence on Handel's work for the rest of his career. The sonata here was composed between in London between 1722-1724. Originally published in 1732 as an oboe sonata, it is in the Italian style that came to define most of Handel's work.
Born in Brescia, Italy, Biagio Marini (1594 –1663) was widely traveled, occupying posts in such far-reaching places as Brussels, Neuberg an der Donau, Düsseldorf, and at St. Mark's Cathedral in Venice with Claudio Monteverdi. His printed works were influential throughout the European musical world. While Marini wrote both instrumental and vocal music, he is better known for his innovative instrumental compositions. He contributed to the early development of violin playing by expanding the range of the solo violin and incorporating slurs and double–and even triple–stops, and was the first to write explicitly notated tremolo effects. Marini sought out novel compositional procedures, like constructing an entire sonata without a cadence (as in his aptly titled Sonata senza cadenza). The title of his Sonata quarta, "Per sonar con due corde" refers to a section of the sonata which features overlapping motives in the violin on two strings, a technique that would have been new and daring at the time. His surviving works exhibit inventiveness, lyricism, harmonic boldness, and a growing tendency toward tonality.
Heinrich Ignaz Franz von Biber (1644 – 1704) was born in Wartenburg, Bohemia (now part of the Czech Republic). Biber's livelihood in music was assured in 1690 when he successfully petitioned Emperor Leopold I, a member of the Habsburg family, for ennoblement. He was then awarded the station of "Lord High Steward," which earned him a stipend, lodging, bread, wine, and firewood—a fine life indeed! The Passacaglia concludes a set of works otherwise for violin and continuo, portraying the fifteen Mysteries of the Rosary, known as the "Mystery" sonatas. These pieces date from the 1670's, when Biber was in the service of Archbishop Maximilian Gandolph von Khuenberg in Salzburg. A Passacaglia is a type of recurring bass line, much like the underlying progression of J.S. Bach's famous Chaconne. In fact, it is likely that Bach would have been familiar with Biber's work, and that this Passacaglia served to prepare the way for Bach's epoch-defining work. In Biber's version, the bass line is a simple descending four-note phrase, repeated throughout, with variations on top. This Passacaglia is one of the very first examples of solo violin music, and certainly the most virtuosic of the turn of the eighteenth century.
Georg Muffat (1653 – 1704),born in Megève in the French Alps, was of Scottish descent. After studying in Paris with Jean-Baptiste Lully between 1663 and 1669, he worked as organist in Molsheim and Sélestat, both in Alsace, France. From 1690 to his death, he was Kapellmeister to the bishop of Passau, in southeast Germany. Muffat's sonata is very forward-looking, hinting at developments of sonata form: it is bookended by an Adagio section which gives a sense of recapitulation at the end. Between these sections, Muffat makes much use of the circle of fifths to extend melodic motives, offset by some downright startling harmonic progressions in the central slow section.
Little is known about the life of Giovanni Antonio Pandolfi Mealli (ca. 1630 – ca. 1669), except that he worked in the court of Archduke Ferdinand of Habsburg at Innsbruck, Austria. His only surviving works are twelve sonatas for violin and harpsichord, opp. 3 and 4. There are reports that Pandolfi, during his time of employment at the Cathedral of Messina, Sicily, murdered a castrato during an argument. He subsequently, and perhaps hastily, boarded a ship, eventually disembarking in Spain, where he was employed in the Royal Chapel, again by the Habsburgs, and remained until his death. Each of Pandolfi's sonatas bears a nickname, which likely refers to the ground used for the triple-meter section at the center of each sonata. The Sonata terza, nicknamed "La Melana," displays Pandolfi's inventive yet transparent writing, which leaves plenty of room for the performers to interject their own invention.
*NOTE: In a rare departure, we scheduled this concert on Wednesday owing to artist availability and venue constraints during Holy Week. We hope you find that Happy Hour can be equally engaging on Wednesdays, too!
April 15, 2016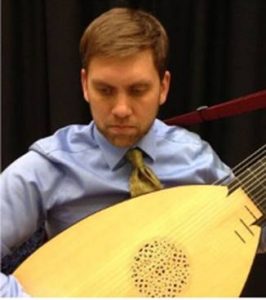 1600: SONGS FROM THE FIRST DECADE OF THE 17TH CENTURY
Abigail Chapman, soprano
Peter Schimpf, lute, theorbo, Baroque guitar
Abigail and Peter will take you on a thrilling journey that follows in song the route that led from the Renaissance to the Baroque: Italian influence, new styles, new instruments, and new expressivity.
Program notes
In first decade of the 17th century, European art music witnessed a rich confluence of styles. For most musicians, the hallmark elements of the Renaissance musical composition continued unabated; equal-voiced textures remained a primary part of composition. But radical new experiments coming out of Italy offered a fresh approach to vocal music, utilizing improvised instrumental accompaniments that allowed solo musical lines to be more nuanced and more expressive. From 1600-1610 the Renaissance and Baroque essentially coexisted, as musicians outside of Italy began to absorb the new music. Solo songs particularly thrived in this decade. As John Dowland and his English contemporaries began to publish numerous volumes of lute songs and ayres, Giulio Caccini and his Florentine compatriots revealed their new musical experiments in publications that would have dramatic effects on the direction of European musical style. New instruments such as the theorbo and the five course "Baroque" guitar also emerged in this decade, specified in musical publications for the first time.